Welcome to the 1973 - 1974 Super Duty Trans Am and Formula Registry.
The registry is intended for all 1973 - 1974 Super Duty Trans Am/Formula models.
These cars have the 'X' in the VIN.
2V87X3(or 4)N1***** for a TA
2U87X3(or 4)N1***** for a Formula
The 'X' is for the SD engine
The idea of the registry is to publish each model year in viewable format. The format will include VIN numbers and RPO code options along with cowl tag information. The registry is a work in progress and will only be successful through participation from SD 455 enthusiasts. All personal information will remain private on the registry, or at your option you need not disclose any personal information. As a fellow owner and SD 455 enthusiast, I look forward to seeing how many of these "Super Duty" models were built.
Use the link to the left for the SD 455 Registry Submission Form.
I would also like the data from the cowl tag.
You are also invited to send me copies of window stickers, invoices, build sheets, pictures authoritative literature, etc.
Any additional information you have on the SD
( personal anecdotes, first hand experiences, suppliers for rare, hard-to-find parts, etc.) would be appreciated.
---
Found!
455 SD Grand Am !
Engine found by Michael Scicluna
Michael Found a 455 SD engine that came from a 1973 Grand Am.
Cameo White in color.
He sent the VIN into PHS and it showed it was a SD 455 powered Grand Am.
VIN - 2H37X3P100039
Read more online at
PY Forums
Awesome find!
---
STOP !!!
Have you been dinged at a judged show or think your starter has an incorrect date code?
Don't get rid of or look for another starter for your 1973 SD Bird until you read this thread!
SD Starters
njsteve on Performance Years bulletin board discovered an anomoly on the date codes for the 1973 SD starters.
It appears that Pontiac may have used starters with a date code of 1B11 which means Feb. 11, 1971!
There are at least 7 documented Birds with starters with that date code on them.
---
NEW! Orphaned SD Engines List
I added a page for the SD engine unit numbers.
It shows an interesting correlation between the engines and the VIN of the car.
73/74 SD 455 Engine Unit Numbers
I have added a new Registry for the 1970 to 74 Firebirds. Check it out.
1970-74 Firebird Registry
NEW
I have added a registry for the 1975-76 455 Trans Ams.
1975-76 TA 455 Registry Submission Form
---
---
STOLEN!
A 1974 Admiralty Blue 4 Speed SD Trans Am was stolen NOV 2011 IN WASHINGTON STATE.
2v87X4N149115
---
1973 Trans Am 455 - VIN 2V87Y3N141428 Buccaneer Red with 4 speed. Was in a shop being restored. Terry Spear was the proprietor. It is believed he sold it either whole or in parts. The engine transmission were numbers matching to the car. His shop has been moved from from Orlando FL (Terry's GTO shop) to Apopka FL to Pulaski TN (Spear's Performance) to Columbia TN.
---
Owners Looking For Info On Their Cars
1973 SD Trans Am 4 speed - VIN #144657
New owner looking for original owner or previous owners.
He would like some other details and history on the car.
---
1974 SD Formula - VIN #133332
Original owner looking for current owner.
He would like to share some other details on the car.
---
Looking For Original Engine or Car
1974 SD Trans Am - VIN #160883
Original owner looking for original engine.
---
1974 SD Trans Am - VIN #160455
Owner of the original engine to a Admiralty Blue with Blue interior w/white seats is wanting to know if the car is still around.
Car came from Chicago area.
---
1974 SD Trans Am? - VIN #120541
SD Engine in GTO now. Looking for original car.
---
Thanks to
PHS Online
for some of these SD statistics.
For a small fee, PHS (Pontiac Historic Services) will decode all the
options your Pontiac was ordered with, plus some other exciting options.
All you need is the VIN to get started.

PONTIAC SD-455 ENGINE PRODUCTION FIGURES
| | | | |
| --- | --- | --- | --- |
| MODEL | 4-SPEED | AUTOMATIC | TOTAL |
| 1973 Firebird Trans Am | 72 | 180 | 252 |
| 1973 Firebird Formula | 10 | 33 | 43 |
| 1974 Firebird Trans Am | 212 | 731 | 943 |
| 1974 Firebird Formula | n/a | n/a | 58 |
| | | | |
| TOTAL | n/a | n/a | 1,296 |

For the 73 TA SD-455 cars and all 74 SD-455 cars, color and option numbers are not available.

Here are numbers for the 73 Formula SD-455 cars:

33 automatic cars:

cameo white=8
golden olive =1
bucaneer red=1
ascot silver=9
verdant green=1
florentine red=3
valencia gold=1
admiralty blue=5
brewster green=1
navajo orange=1
burma brown=2

10 four-speed cars:

cameo white=1
bucaneer red=1
ascot silver=1
porcelain blue=1
florentine red=4
admiralty blue=2

Interiors:

white std=3
black std=5
saddle std=1
white cust=3
black cust=16
saddle cust=7
burgandy cust=7
beige cust cloth=1

Other options:

N98 Rally II wheels=23
P05 Honeycomb wheels=7
D80 Rear spoiler=15
C08 Cordova top=6
Y99 Handling package=33
V32 Rear bumper guards=7
A31 Power windows=12
AU3 Power door locks=7
C60 Air conditioning=25


*C60 Air conditioning was not available with the M20 4-speed trans
*N41 Power steering and JL2 Power disc brakes were required options with the SD-455

Write to me at: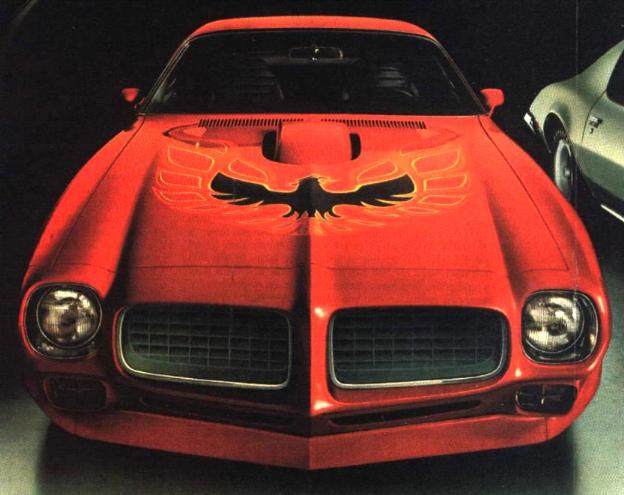 [ Home ]